ISSA-UK Dragon's Den Event, HMS President – Thursday July 11th 2013
---
ISSA-UK Dragon's Den
Testing Times: Managing Vulnerabilities in Complex Systems
HMS President, River Thames,
London, United Kingdom
Thursday 11th July, 2013
(5 CPEs)
---
This year's Dragon's Den event will be looking at ways to help bring the gap between emerging vulnerabilities/threats and the ever increasing complexity of systems, both of which are taking an alarming hockey-stick trend.
We welcome the Earl of Erroll from the House of Lords, Peter Wood from First Base Technologies and Chris Phillips, ex-Head of the National Counter Terrorism Security Office as keynote speakers.
In the Dragon's Den event, ten security software/solution vendors battle it out for the best Speaker and best Product prizes, as voted by the audience. We offer each vendor a 10 minute speaking pitch to tell us what makes their product the best, in a fast-paced and lively environment.  This unique format enables delegates to understand existing and emerging technologies on the market, and each Dragon will have a stand so you can find out more about their solutions.
After hours, we will enjoy a networking drinks reception on deck and sample the British weather at it's finest!
---
Keynote Speakers
Earl of Erroll, House of Lords
The Earl of Erroll is a Cross Bench Peer who first entered the House of Lords in 1978. Secretary of the All Party Parliamentary Group on Communications. He is Secretary to the All Party Internet Group and is also on the ISSA UK Executive Advisory Board. He sits on the Local Authority Smartcard Standards e-Organisation (LASSEO), is a member of EURIM, member of the Parliamentary Information Technology Committee, is president of the E-business Regulatory Alliance and has a background in computer security and identity management. He can program. He is the founder of the telephony company VoiceXchange and one of the few vocal IT champions in the House of Lords. Has used the phrase "script kiddies" in the House of Lords.
Peter Wood – First Base Technologies
Peter speaks at international IT security conferences and specialist groups, provides commentary on security issues for television and radio, and appeared in the BBC1 documentaries " ID Fraud: They Stole My Life" and "ID Fraud: Outnumbered".  As Chief Executive Officer at First Base Technologies, Peter specialises in penetration testing corporate networks and performing social engineering exercises. He also chairs the White Hats IT security user group.
Chris Phillips, ex-Head of the National Counter Terrorism Security Office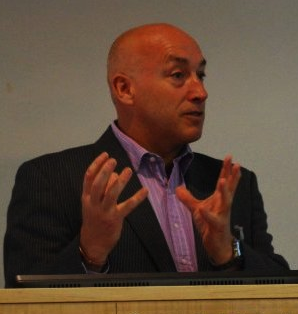 Chris is former head of the UK's National Counter Terrorism Security Office (NaCTSO). He has over 30 years of policing experience in the UK and is now the Managing Director of the International Protect and Prepare Security Office (IPPSO). He is widely recognized as an industry expert in the UK, helping to secure both private and public sector organizations.
---
Our Dragon's Den Participants
---
Agenda
09:30 Registration
10:00 Introduction – Tim Holman, President ISSA-UK
10:15 Keynote – Earl of Erroll, House of Lords
11:00 Coffee / networking break
11:30 Dragon's Den Session 1
12.30 Buffet lunch and networking
14:00 Keynote – 'Penetration Testing,  Corporate Netoworks, An Ethical Hackers View'   Peter Wood, First Base Technologies
14:45 Dragon's Den Session 2
15:45 Keynote – Chris Phillips, ex-Head NaCTSO, founder IPPSO
16:30 Dragon's Den Awards / Closing Thoughts
17:00 Networking, Drinks & Prize Draws on Deck
19:30 Close